Palms are sweaty, the wedding ring box is bulging out of your pocket, you wait for the right moment and ask: "Will you marry me beautiful?"
She says…Yes!
After the euphoric rush of the big news and looking forward to a life together…
Oh yeah, we need to plan the wedding now.
Decades ago, a future bride might break out the wedding binder with all her hopes of dreams of what the big day would be like.
Today?
You look online and there are so many ideas, inspiration, and advice littered throughout wedding blogs and social media.
We're moving towards a paperless world and your wedding planning should follow suit. Simply click away on your phone and you have everything organized for the biggest day of your lives.
After you get to 'yes,' you start planning the wedding and there will be tons of questions throughout the entire process.
Do we want a small or big wedding?
Do we have room to splurge on that Ferrari rental in our budget?
What's the easiest way to share photos with our guests?
When should we get our bridesmaids and groomsmen outfitted?
Which wedding venues can accommodate 500 guests?

Don't get overwhelmed by the questions that come up during planning. Step up to the challenge and get organized! Don't give in and become a Bridezilla or Groomzilla…it's time to get digital!
Wedding planning is one of the first pre-marriage challenges you will face, but don't get drowned by the details. Keep it simple and organized. Ease your mind and download some of these incredible wedding planning tools now to help you.
Are you an 'Appy Couple'?
Price:FREE
Available Platforms: iOS and Android
You are FINALLY engaged…spread the news to all your loved ones! Are you going to send out a mass text or call folks to control the news from spreading like a wild fire? Well, why not be an 'Appy Couple' and bring your happy news to everyone online.
The 'Appy Couple' app allows you to design a website to share your love story with family and friends, as well as keep your VIP's updated as you begin to plan for the happiest day in your life.
Share photos and socialize with your extra close bridal party, it lets guests RSVP and make travel arrangements as required.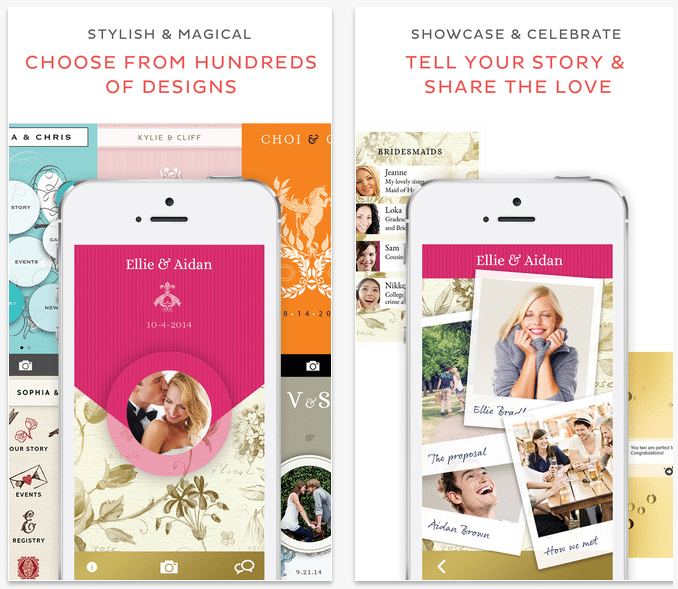 Are you 'WeddingHappy'?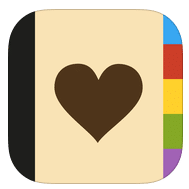 Price: FREE
Available Platforms: iOS
This wedding planner fits in your pocket! Download this and be amazed at one of the best organizational wedding apps on the market.
Simply enter in your big day and you will automatically see a countdown display. (Guys – this is the countdown to you freedom ending!) ????
This app will signal you when it's time to plan a particular part of your wedding such as the videographer or when you should book a specific vendor, ie. The florist.
Are you a fan of 'to do' lists? This app will show you how many tasks you have completed and how many you still have to do.
If this weren't enough, you can also check on your progression via a pie chart! This app is really handy as it guides you to your next task and allows you to add notes about each vendor you are in contact with.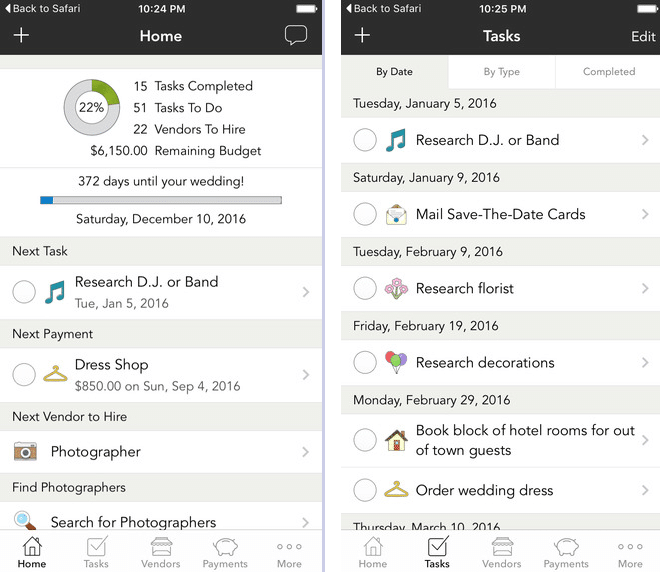 Photo and video sharing with 'WedPics'
Price: FREE
Available Platforms: iOS and Android
Leave no memorable moment behind! An exciting new way for wedding guests to capture and share your most treasured moments of your wedding day…all collected into your own personalized photo album!
Invite your wedding guests to download the app (using your unique wedding ID) to instantly upload photo and videos into your collection.
There's a great user review on Wedding Wire that describes her positive experience with WedPics:
"I used WedPics at my wedding three weeks ago. A friend who got married in September used it and loved it, so she told me about it. I was very skeptical – I didn't think people would really use it. Boy, was I surprised. I put cards at every reception table explaining that people could download the app or just take photos and upload to the website. A ton of people uploaded not only pics but videos, and I have some really great photos on there that the photographer never would have captured. My best friend is now using it for her wedding, as well. It is super easy to set up, super easy to share (by email, text or Facebook), super easy for guests to use, super easy to upload photos with, and then you can download the photos or share them to Facebook or even get prints through WedPics. The groom went on and on about it – I think one of his favorite things about the whole day was watching to see which photos people uploaded. Highly recommend."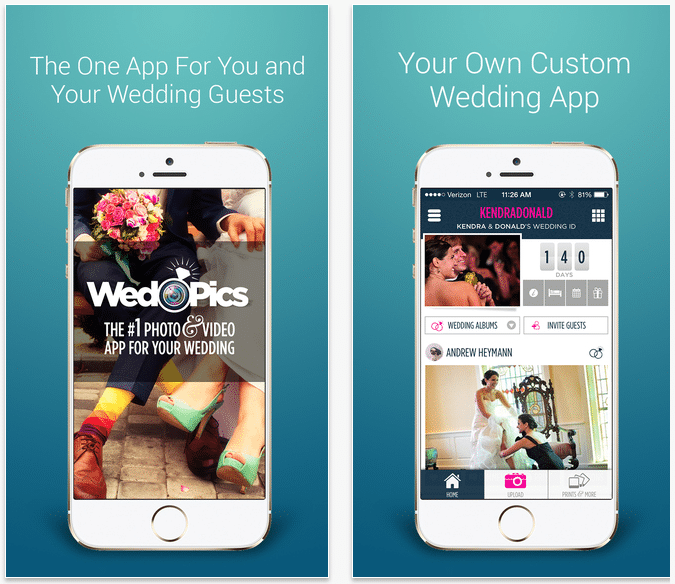 Don't break the bank, use a 'Wedding Budget Calculator'
Price: $2.99
Available Platforms: iOS
You've imagined your big day since you were a child, don't turn your dream day into a nightmare once you realize how much it actually costs you. A wedding can range in costs from a few hundred dollars to tens of thousands of dollars. Know your budget and manage it with downloading the Wedding Budget Calculator app
A wedding can range in costs from a few hundred dollars to tens of thousands of dollars. Know your budget and prevent overspending by using the Wedding Budget Calculator app.
This app costs $2.99, but gives you peace of mind of listing over 50 wedding expenses to keep top of mind. This app allows you to monitor what you have deposited to vendors and what is remaining.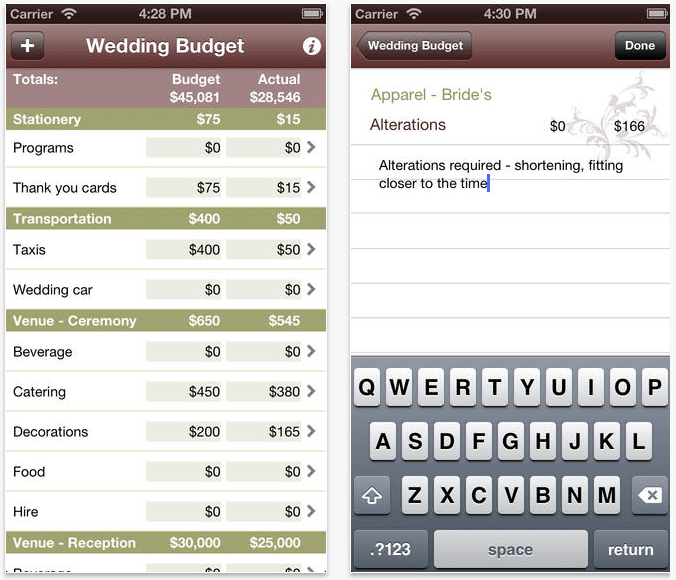 Love to shop? Voila here's 'Zola'
Price: FREE
Available Platforms: iOS
Who doesn't love to shop? What is more fun than walking around a department store with a bar code zapper and shoot away at beautiful presents that you and your beloved will enjoy.
Step away from the old way and put a twist on the traditional wedding registry. Zola allows you to scan barcodes from your phone and turn on group gifting to let guests share costs.
Your friends and loved ones can purchase both of you experiences and services, rather than a steak knife set or plush comforter that you may never use.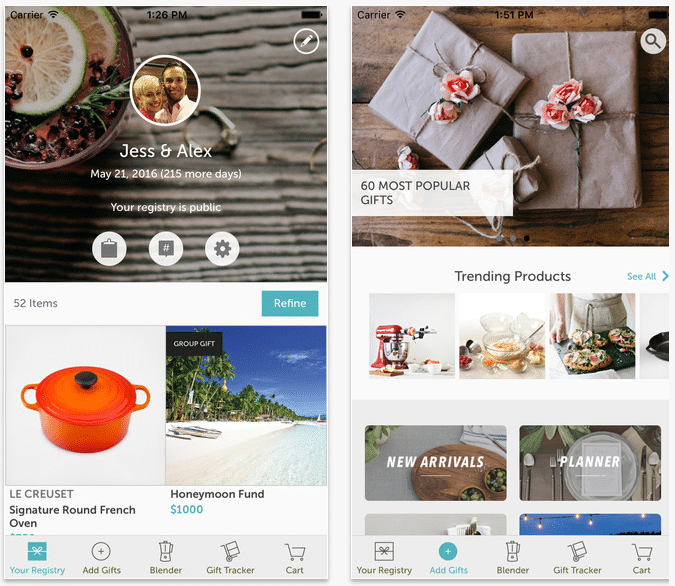 Its already tied: 'The Knot Wedding Planner'
Price: FREE
Available Platforms: iOS and Android
Looking for some creative ideas? This app will supply you inspiration from flowers, dresses, videographers, venues and décor.
This app will also keep you up to speed with a countdown clock, a to-do checklist, and tools to manage your budget.
Sync up your app to TheKnot.com account, so you can have all your wedding notes in one spot and gain access to them anytime.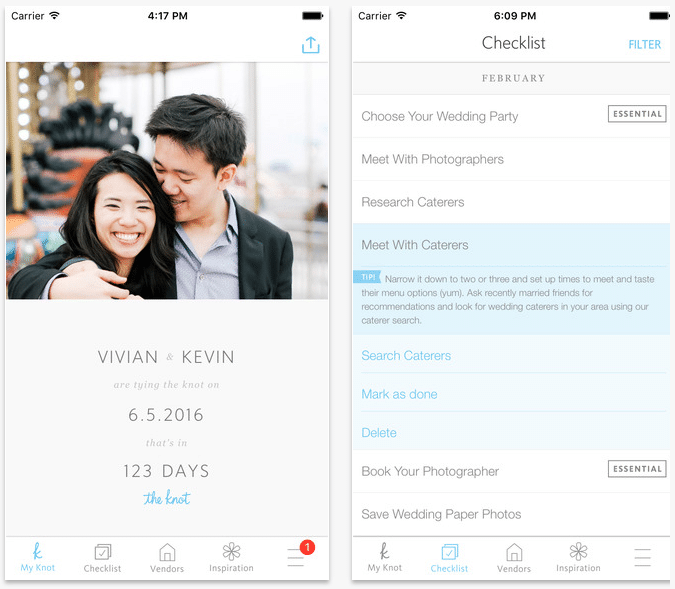 Get the ideas flowing with PINTEREST
Price: FREE
Available Platforms: iOS and Android
The most popular online scrapbook for wedding ideas, Pinterest has a plethora of content displaying the latest trends from all types of weddings.
Since Pinterest's user demographic is 80% women, there's no shortage of finding unique DIY ideas, wedding dresses, decor colour schemes, to hidden honeymoon destinations.
Create your own Pinterest board called "Modern Wedding dresses", and start pinning images of all the wedding dresses you like. Share your board with family and friends and get their comments!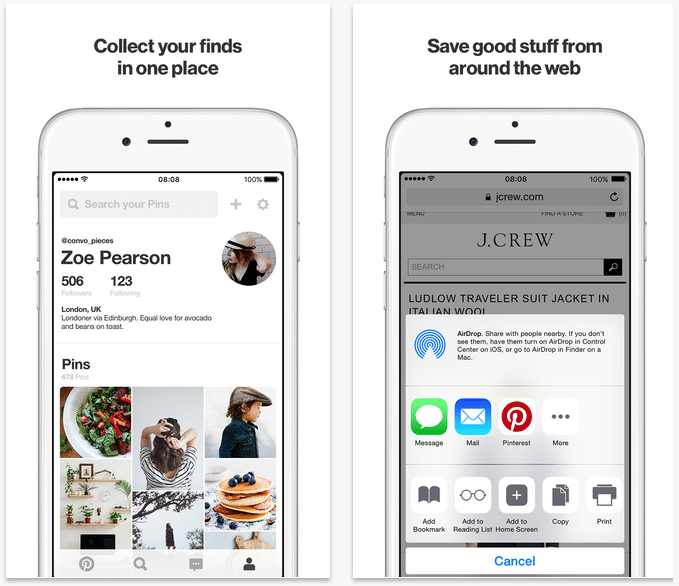 Stamp it with DIY "Etsy"
Price:FREE
Available Platforms: iOS and Android
Etsy is full of boutique designers that can craft one-of-a-kind wedding items to help add a personal touch to your wedding.
How about a personalized ring pillow? Or a custom wedding cake topper?
Based on your saved items and shops, the app can send you personalized recommendations tailored to your tastes.
You are truly limited to your imagination and creativity! Have fun browsing!