Should you have a smaller, intimate wedding or a big wedding?
Well, a lot of depends on your personality, your network, family and at the end of the day…your wallet size!
If you are a bride and groom that shines in front of large crowds and want the spotlight to focus just on you…then you'd be happy to take on a larger guest list. However, if you are the type of bride that wants to keep it low key and invite a select few; then you might opt for more of an intimate ceremony and reception. Let's take a look at the advantages of both, tiny weddings versus 'go big or go home' weddings.
INTIMATE CEREMONIES – UPCLOSE AND PERSONAL
1) People who love you – You get to be around the select few in this world that absolutely love you and want the best for you. After prioritizing your list down to the most important VIPs in your life; you truly send a message of 'you matter to me' and I value your presence at my wedding.
Your guests will feel special and this will give you more quality time to spend with each person. There's a great comment on one of threads in The Knot's wedding forum:
Think of this- average reception lasts 4 hours. 240 minutes. Divide that time between 180 guests, and you can spend about 1 and a third minutes with each guest. Which means hardly any time to even say hello. What's the point of having guests you can barely manage to socialize with?
Not only will you get to spend more time with your guests, but this provides an opportunity for your guests to get to know one another; just like a big, happy family.
2) Don't worry, be happy – A sense of calm on your wedding day is something you cannot put a price on. You will feel more at ease during the most important day of your life with an inner circle of family and close friends versus a massive gathering.
3) Your bank account will thank you – Put your money towards your future, budgeting for your big day and saving money can mean a potential down payment on a place to live, that vehicle you have been admiring or an extended honeymoon vacation to celebrate with your significant other.
To ensure that you're keeping tabs on your spending and overall budget, download the extremely useful planner WeddingHappy app onto your phone.
They recently announced an update on their blog that includes payment tracking as well!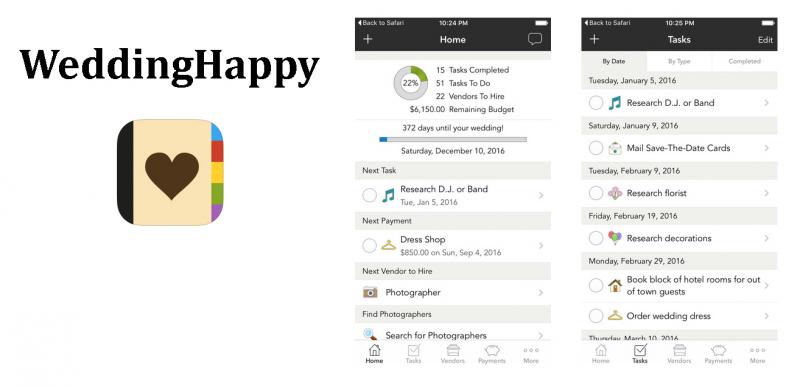 4) Make it a day/night to remember – Inviting a smaller crowd doesn't mean you can't pull out all the stops to make your day extra special. Go ahead and book that pricier band, buy that dress with more bling, acquire pricier liqueurs for the bar, get the most outstanding photographer or arrive at your events in class with out of this world luxury vehicles.
5) Location! Location! Location! – By having a smaller guest list, you now have the power of choosing from a variety of locations that will fit the bill. Step outside of the box and choose a creative location: on a beach, a beautiful park, on a beautiful patio, destination bed and breakfasts, on a boat or your favourite restaurant.
If you're looking to find some hidden gems around Vancouver where you can rent open spaces, Airwaves Music has some great suggestions.
6) Make it about you – With a smaller wedding you can stamp your signature on the big day with your own tweaks. Get your creative brains together and think about how you can make the big day a reflection of who you are and what you're all about.
You can be hands on with DIY invitations, favours, etc. Or you can also head over to the Etsy wedding section and have some custom designers create something special for your big day like a custom ring pillow or wedding cake figurines!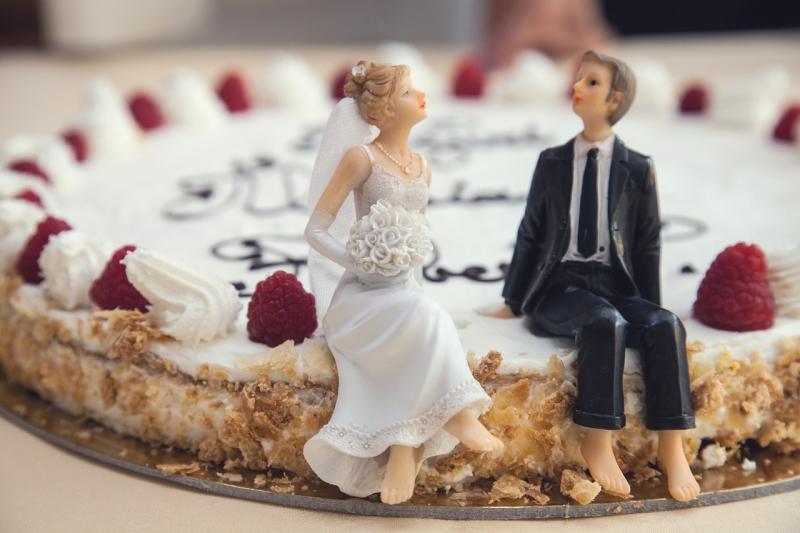 Make it a wedding to remember for those who are lucky enough to attend your wedding and for you. You will have more special moments and memories to share with your close, tight-knit group.
EXTRAVAGANT RECEPTIONS – IT'S A BIG CELEBRATION!
1) Everyone you love, work with, and grew up in one place! – Welcome to my big fat _______ wedding!
Invite everyone you can think of that is important to you and feel good about having them on your big day. Come one, come all…people you grew up with, your family and extended relatives, classmates, co-workers and contacts. The biggest advantage of having a large wedding – you don't have to cut as many people off your list. Everyone is going to join in on the big party!
Here's a pretty helpful infographic to help you determine if that person made the cut ????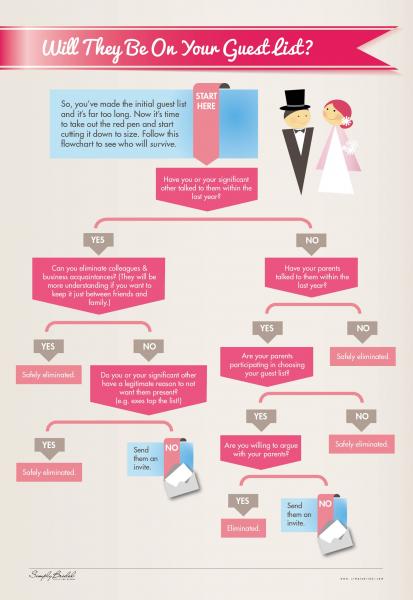 2) Big party = big venue – Hold your festivities in an out of this world wedding venue with multiple celebrations taking place in: an outdoor wedding venue, a beautifully decorated banquet hall, a rehearsal dinner at a large restaurant, a space for your cocktail party, pre-party celebrations and why not an after-party space?
3) Grander decor – You now have an opportunity to showcase large décor themes with a venue that offers high ceilings, beautiful architectural designs, create a dream wedding scene or feature extraordinary center pieces at all your tables for guests to admire.
Check out the Riverside Banquet Halls gallery for decor themes from our previous wedding receptions to get some inspirational ideas.
4) Variety is King! – Larger crowd = more options for catering, cocktail party stations, signature drinks and a variety of appetizers, entrees and dessert options which is sure to keep your guests happy.
5) The spotlight shines bright on you! – Get ready for amazing photography and videography as you will need to challenge your vendors to capture each and every moment your heart desires. More people = more memories on your big day.
Take a look at the list of this year's award winning wedding photographers/videographers at the Professional BC Wedding Awards.
6) Keeping tradition alive – Common with many cultures, whether it be Italian, Greek, Indian, or Chinese, a wedding is to be celebrated by all. The grander the wedding encompassing more guests the better. Keep your family's traditions close to heart and show your extended family that you respect your cultural heritage.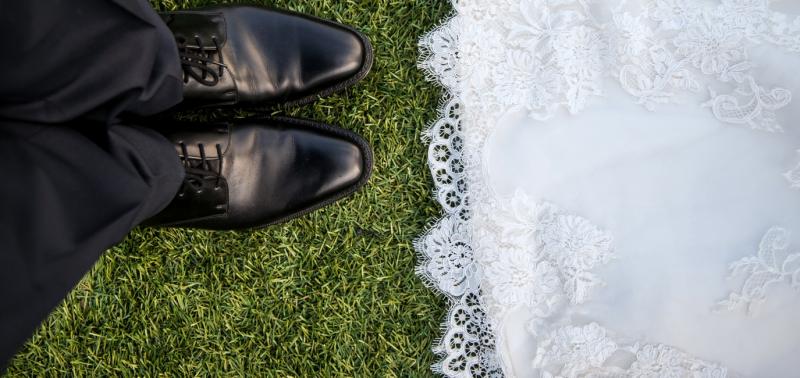 Whether you choose to have a private gathering or bigger celebration…your wedding should be about how the bride and groom envisions it. Wedding planning can be a challenge, but there are always resources and help available to guide you.
The event management team at Riverside Banquet Halls have planned weddings with a guest list as small as 40 and as large as 800. Contact us today for your free consultation!